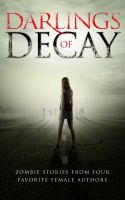 Chilling tales of zombie horror from thirty of your favorite female writers.
Featuring some of our favorite Zombie Grrls…
Tamara Rose Blodgett
Chantal Boudreau
Laura Bretz
Tonia Brown
Catt Dahman
Mia Darien
CM Doporto
Jacqueline Druga
Dana Fredsti
Belinda Frisch
April Grey
Michelle Kilmer
Rebecca Hansen
Lori R. Lopez
Suzi M
Shannon Mayer
Tara Maya
Lyra McKen
Cynthia Melton
Kristen Middleton
Chrissy Peebles
Jeannie Rae
Suzanne Robb
Julianne Snow
Rebecca Snow
Anna Taborska
Ally Thomas
Christine Verstraete
AR Von
Annie Walls
Jen Wilde
Sit back as your favorite authors of zombie lit take you on a wild, horrifying ride that will leave you breathless! Come and meet the women who love to entertain you with their own unique versions of the zombie apocalypse.
Even better, it's FREE on Smashwords right now, and will be available on Amazon soon!!
Smashwords has every format available for you, download a copy for every device!