Happy Birthday to Emily Perkins
Born on May 4th, 1977
You have no idea how badly I want NEED these in my life.

A gallery of horror movie heroines, screaming for your attention! Fascinating but disturbing, scary movies prove amazingly popular, year after year. This book features dolls of 16 actresses, each with one movie outfit, who have appeared in some of the most frightening but fun flicks: Elsa Lanchester in Bride of Frankenstein, Janet Leigh in Psycho, Jamie Lee Curtis in Halloween, and many others.
Cinema's greatest villains take center stage in this paper doll collection of homicidal lunatics and their intended targets. Featured roles range from masked slasher-movie assassins to Jack Nicholson's deranged caretaker in The Shining and Kathy Bates as Misery's psychotic fan, plus Freddy Krueger of A Nightmare on Elm Street, Leatherface of The Texas Chainsaw Massacre, Jason of Friday the 13th, and others. Contains mature content.
I don't know who YouTube style sensation Grav3yardGirl, (aka Bunny Meyer), is – but I'm about to go find out because there is a paper doll book of her out, too!!
SCARY, MACABRE, GOTH, HORROR… 
SCREAM QUEENS IS ONE OF MY NEW FAVORITE SHOWS!
The pilot is available to stream on Amazon FOR FREE.
Catch last Tuesday's premiere HERE.

Wallace University is rocked by a string of murders. Kappa House, the most sought-after sorority for pledges, is ruled with an iron fist (in a pink glove) by its Queen Bitch, Chanel Oberlin (Emma Roberts). But when anti-Kappa Dean Cathy Munsch (Jamie Lee Curtis) decrees that sorority pledging must be open to all students, and not just the school's silver-spooned elite, all hell is about to break loose, as a devil-clad killer begins wreaking havoc, claiming one victim, one episode at a time. Part black comedy, part slasher flick, SCREAM QUEENS is a modern take on the classic whodunit, in which every character has a motive for murder… Or could easily be the next blood-soaked casualty.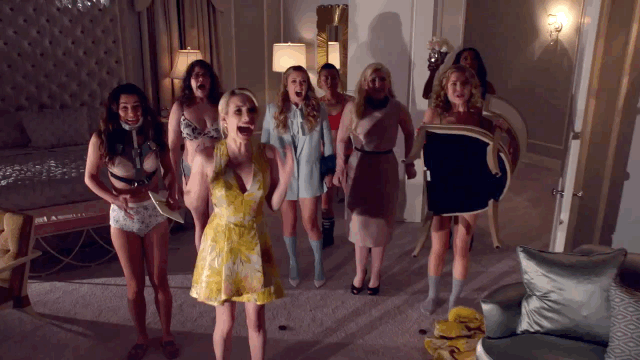 Emma Roberts is not my favorite person in the world, (not because of her AHS roles, but because of who she is as a person), but I couldn't have cast a better actress to play the Queen Bitch On Campus – Chanel Oberlin. Cathy Munsch, the Dean of Wallace University, is played by actual scream queen Jamie Lee Curtis – and she is at the top of her game! (Still a babe, too.) One of Chanel's little minions is played by Zombie Land's Abigail Breslin, and it took me half of the pilot episode to figure out where I knew her from. You'll recognize many more Scream Queens – so don't let me spoil all the fun! (True Blood beefcake, a brother from a boy-band, and a Reno 911alum… just to name a few!)
"Shut up, you don't die from getting your face burned off."
~ Chanel Oberlin
Scream Queens is 'campy', it's over the top, and packed full of iconic horror references – making me sad that I watched it alone, not having a person next to me to punch with excitement every time I caught something, or just wanted to fall off the bed laughing.