Killers Anonymous by Rhonda Kachur
A free ebook download from Smashwords.com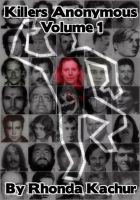 Killers Anonymous, by Rhonda Kachur, (aka Rhonny Reaper) is a fictional series of short e-stories that follow murderers, psychopaths, and serial killers on their road to recovery. In each volume, you will meet a new member of the support group as they tell their stories and share their personal struggles with the demons within.
Volume One introduces us to Bobby.
He learned to kill at a young age, it was one of the only ways he could be close with his father. The story takes you through the highlights of his murderous career, to the exact moment he decided that this wasn't the way he wanted to live his life anymore.
This is the first in a series that I cannot wait for more of!
There are so many possibilities, the only limit being the authors imagination. Personally, I'm hoping for the series to cover at least five different serial killers, culminating in a final novel length story – incorporating each killer highlighted in the series.
Visit Rhonda on her Rhonny Reaper Blog
Find & Friend her on Facebook
And, be sure to check out the other amazing authors, and their work, at Zilyon Publishing