American Horror Story 6: Roanoke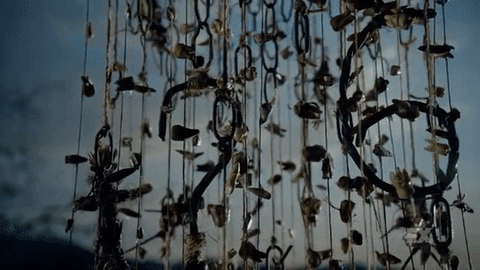 Lily Rabe, Sarah Paulson, Angela Bassett, and Cuba Gooding Jr. have me completely amped for S6 so far!
S6 E1 is shot like, and presented to be a true crime / paranormal documentary series titled – "My Roanoke Nightmare".
The 'show' follows Shelby & Matt Miller while they move from Los Angeles, California to a house in Roanoke Island, North Carolina following a late night assault which left them both injured. As soon as the couple settles into their new home, the strange shit starts. You better believe I'm already hooked!!
Let's flashback to S1 for a mo' –
Remember Sarah Paulson's character Billie Dean Howard? Didn't she mention an upcoming documentary show, staring her, that is going to air on Lifetime? Hmmm…
Want to dig just a little bit deeper? In S1E11 Billie Dean talks about 'a very successful exorcism' in 1590, at the Roanoke Colony.
I can't wait to see where they are going with the story line this year!
I did get a bit curious about the 'based on true events' line, and looked up some info about the Roanoke Colony… creepy stuff!
Before Jamestown and Plymouth, the English attempted to forge a colony at Roanoke. Within three years, it had disappeared, leaving a mysterious clue behind. What really happened to the Roanoke settlers? Check it out HERE!
With American Horror Story: Hotel set to premiere on FX this coming October, filming is almost underway, which means that the cast is beginning to check in. On tap today is the latest casting news, as two series regulars are returning for one more go at it. Sadly, Jessica Lange is not one of the returning members.
With Jessica Lange out but other series regulars returning, many fans have been wondering where Evan Peters stands when it comes to American Horror Story: Hotel. Will he find a room or be left out in the cold?
"Evan Peters will be waiting for you in Room 64."
The actor has previously appeared in every single season of the show.