A graphic novel that will change the way you
see the Cthulhu Mythos forever!
Stop by the Beyond Lovecraft Indegogo Page for all the details!!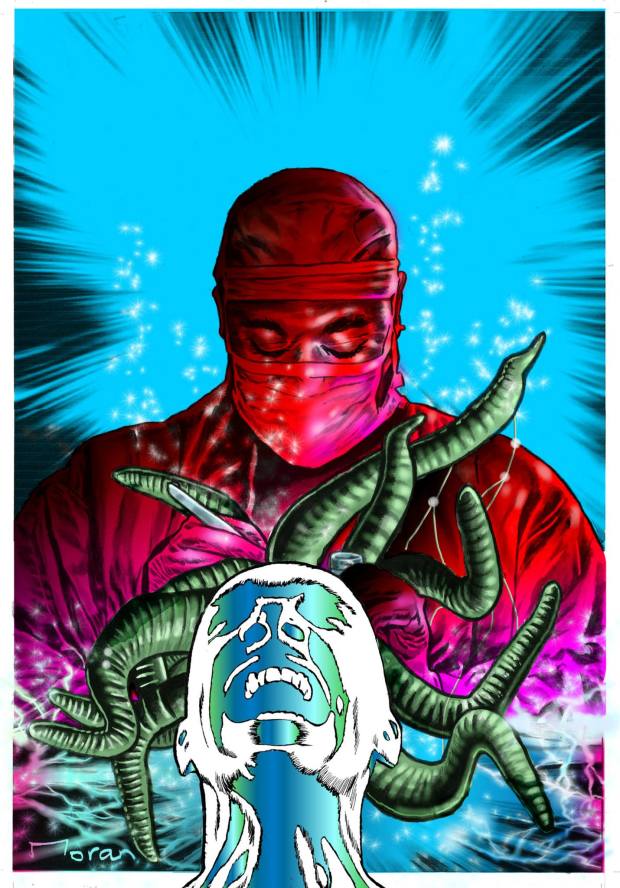 Beyond Lovecraft is a portmanteau horror story that draws directly on the works of H. P Lovecraft. Drawn by award winning artist Rob Moran and written by award winning writer Jasper Bark, it's a 96 page graphic novel featuring four stand alone tales and one on going story that links them all together. This is a grim and cosmic love letter to the mythos that means so much to the creators.
THE STORY ARC
The linking story is set in the apocalyptic aftermath of the return of the great god Cthulhu. The scattered band of humans that survive this catastrophe scratch a bare living, hiding in the shadows of what's left of their civilisation.
A tiny group of scientist from Miskatonic university find a way to access the fabled Library of the Yith. This is an alien archive that contains the entire history of the universe and was first mentioned in Lovecraft's novella: 'The Shadow Out of Time'.
The scientists hope to find a way to stop humanity's extinction and win back their planet from the Elder Gods. Instead they uncover four tales of cosmic terror, and personal loss, that will forever change the way you view the Cthulhu mythos.
THE STORIES
OCCUPY THE MOUNTAINS OF MADNESS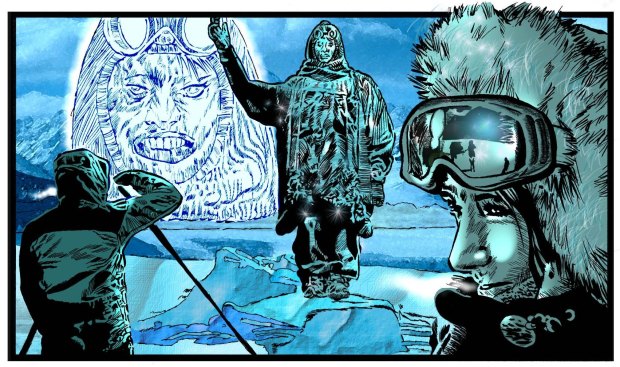 In 'Occupy the Mountains of Madness' a band of eco warriors, protesting arctic oil drilling, uncovers an evil far greater than the 1% who own all our wealth.
THE COVER OUT OF SPACE

A Fortean journalist travels to Arkham's blasted heath to investigate the mysterious disappearance of legendary, underground cartoonist Victor Rodriguez and the rumours of an alien visitation. He discovers the unimaginable truth lies between the covers of a living comic book, a sentient being, made of ink and paper, that gets high when you read it.
OUT IN INNSMOUTH

Growing up gay in the poverty ridden town of Innsmouth leaves 16 year old Zeke desperate to escape. When he meets Jay on-line he doesn't realise that the older man is grooming him, but the sinister currents of Innsmouth's murky past are about to catch them both in it's inescapable undertow.
THE THRALL OF CTHULHU

In an alternate world, the Cthulhu Mythos has infected all literature like a virus. Few people can remember a time when every story ever told wasn't about the dark Old Ones. A handful of readers must work with a tiny group of fictional characters to repel this invasion and keep their reality safe from the Elder Gods.
WHY WE NEED YOUR HELP
Beyond Lovecraft has already been picked up by top UK publishers Markosia, so the publishing and distribution are covered. Unfortunately, due to the current economic realities of comics publishing, Markosia can't afford to pay us a page rate. Sadly this is an increasingly common state of affairs in the comics industry and that's why campaigns like this are SO IMPORTANT.
Traditionally comic creators are paid a page rate for their work, like an advance against royalties. This page rate can be anything from $50 to $5000 depending on whether the creator is providing pencils, inks, colours, script or letters, and how big a name they are in the industry.
If we meet our campaign goal, you will have helped us raise just enough money to pay ourselves a third of the page rate that we usually make. That's right, only a THIRD OF OUR USUAL PAGE RATE. We don't mind about this though. This is a Dream Project for both of us and we are obsessed with making it a reality.
Even though we will be working for a third of our usual fee, we will still be able to pay most of our bills and that will mean we can devote all our time to this project without having to take on other work to feed our families.
You will be helping us pour our twisted hearts and dark souls into this project. And if you knew how dark our souls were, you'd realise what a service you're doing the world by giving us a place to pour them.
WHERE THE CONTRIBUTIONS WILL GO:
This is a breakdown of where all the funds raised will go: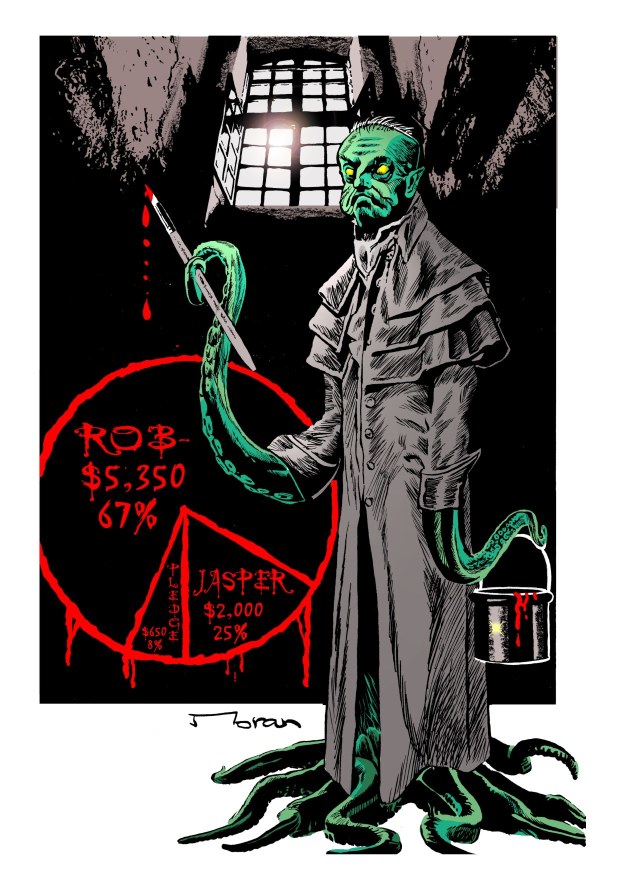 We would love you to get involved with our campaign and share the passion and excitement we have for this project. If you are able to contribute we have some really unique perks on offer.
Every perk is designed to put you at the heart of this campaign and to share ownership of the whole project. We're offering bespoke gifts and some completely unique experiences, because we believe this is a special project and we want you to be an integral part of it.
If you don't feel you can contribute straight away we do hope you'll come back and check us out over the course of the campaign. If you could share the campaign with your friends, maybe tweet about it or post on other social media, we will be just as grateful.
If you don't get around to sharing our campaign, please do leave a message and let us know what you think. Every bit of feedback is important to us and we really welcome your thoughts.
Thank you for checking out our campaign and we hope you can join us for the ride, as we travel Beyond Lovecraft.
Where to find the campaign:
On Indegogo – https://www.indiegogo.com/projects/beyond-lovecraft#/
Help make it happen
for Beyond Lovecraft and the team!