"THERE IS A FINE LINE BETWEEN SUPPORT AND STALKING AND LET'S ALL STAY ON THE RIGHT SIDE OF THAT."   ~ Joss Whedon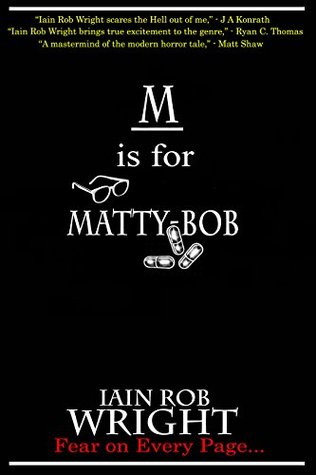 IRW loves his WRIGHTERS, his true fans. But in the spring of 2015, he met Matty-Bob… a mega fan of Anne Wilkes proportions.
M is for Matty-Bob is the 13th installment in Iain Rob Wright's A-Z OF HORROR series, and the satirical short is full of dark humor, easter eggs, and nods to his genre brothers. If you're friends with 'the gang' on Facebook, you'll really get a kick out of the way this SS is written, and the characters included.
My one regret about this review is not being able to find the picture of "Matty Bob's" naked torso with the written lipstick message on it. I KNOW it exists – I saw the pic before reading this book, and it really put Matty Bob's character into my memory bank, and almost caused me to block him on Facebook >.< hahahahaha!
The book also includes Matty Bob's side of the story at the end, and in true HE SAID / SHE SAID form… it makes you wonder who the true psycho really is.
When reached for comment, the author had only this to say…
"DO NOT READ THIS BOOK, IT'S A LIE! I NEVER HAVE MEAT ON MY PIZZA!" ~ Matthew Cash
This review brought to you by the 'Iain Rob Wright Protection Society'
11/20/2015 UPDATE!!
A huge thank you to Matty-Bob himsilf, Mr. Matthew Cash, for providing me with the coveted 'torso' photo!!